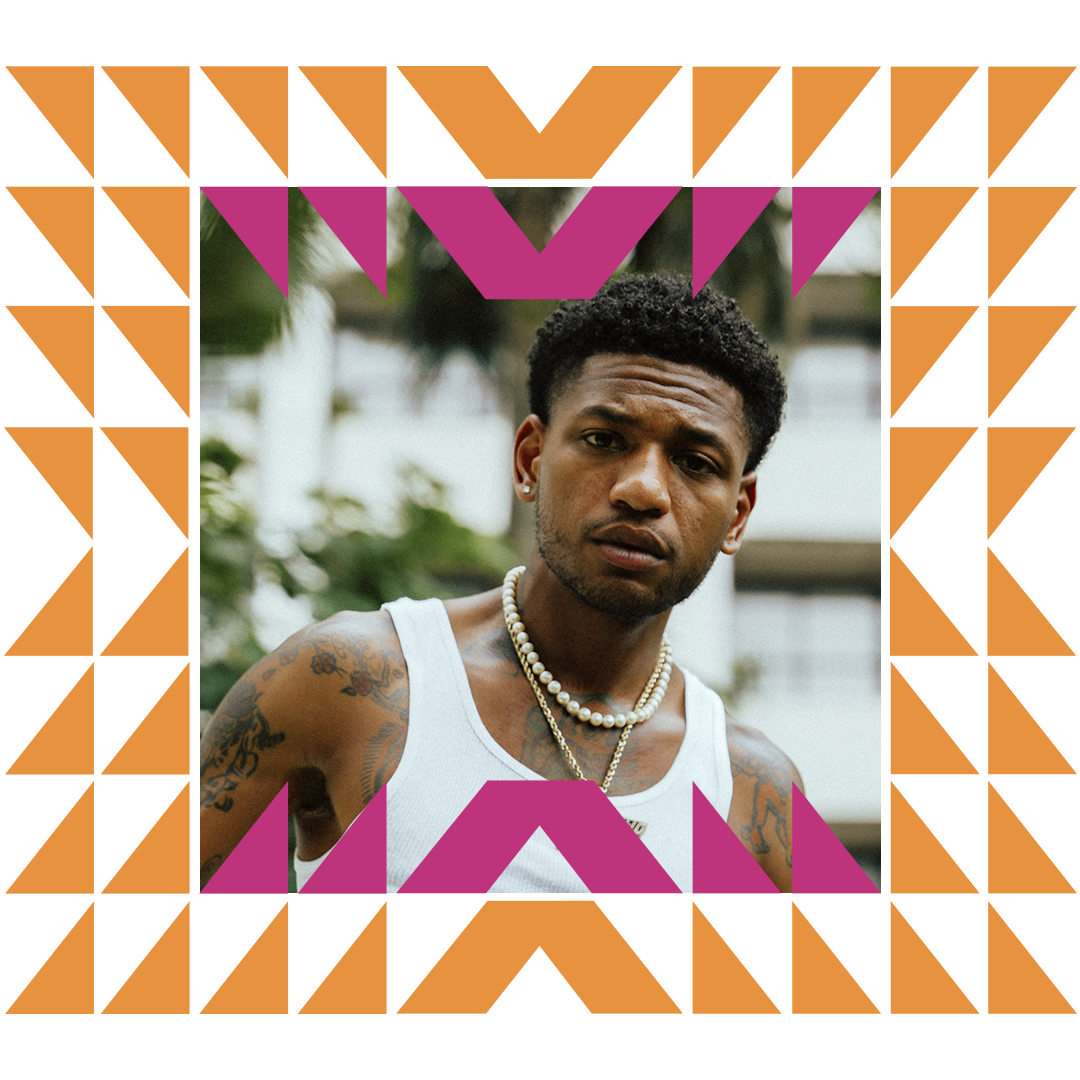 Growing up in West Oakland provided the Grammy Nominated, Platinum recording artist Guapdad 4000 (born Akeem Hayes) with a vast treasure chest of invaluable inspiration, encouraging him early on in life to explore his innate talents as a multi-hyphenate creative and eager student of the game. Guapdad's profound sense of humor, paired with his aptitude for commanding attention, translated organically into his lighthearted freestyles and ignited his interest in developing his well-rounded capacities as a vocalist. 
While navigating an upbringing challenged by both parents being in and out of jail at often overlapping time frames, Guapdad 4000 began operating out of a necessity to both survive and take care of his siblings and grandmother. Driven by his greater desire to rise above such calamitous circumstances, he turned to illicit means to make money, such as credit card fraud and petty theft, a path accented by ups and downs that later provided ample material for his original content. 
After releasing a slew of successful hits, which begain in the summer of 2019, Guapdad 4000 released his highly anticipated debut album, "Dior Deposits" in October of 2019. In addition to his singles setting the charts on fire and his solo album going viral, Guapdad also continues to build a buzz after his features on Dreamville's Grammy Nominated RIAA Platinum "Revenge of the Dreamers 3" album by performing at prominent festivals nationwide and touring with Wale, Denzel Curry, P and Earthgang (Dreamville). Guapdad 4000 hasn't just been releasing hit after hit, the music videos that accompany the internet savvy rapper's singles go viral as well thanks to his eye for entertaining visuals, like "Lil Scammer that Could" capturing the rappers fun but serious personality gives fans a look inside the rappers creative mind. Furthermore, Guapdad's innovative visuals and vlogs ultimately earned him a selection for the YouTube Music Foundry. 
Currently, Guapdad's RonaRaps campaign featuring guest cyphers from artists such as Chris Brown, Curren$y, Joey Bada$$, Boogie, Wiz Khalifa and many more highlights his aptitude for lyricism and his versatility. Guapdad's upcoming EP, titled GUAP, embodies the sounds and vibe of his westcoast-funk influences wrapped up in his smooth player ways. Once again Guapdad pulls off the unthinkable by getting 2 pillars of cool, Wiz Khalifa and Curren$y together on the focus single, "Pose". Guapdad's talent, creativity and versatility marks him as one of the most promising budding stars of the music industry.