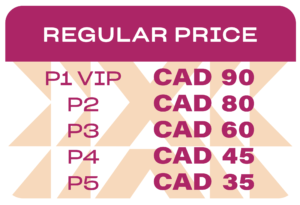 P1-GA Floor: VIP Premium Festival Experience
VIP Express Entry Lane
Access to the VIP party-standing area (floor); covered

Standing sections are open to ages 15 and up.
Minors must be accompanied by a ticket-bearing adult/guardian in the same section.
Parents/guardians will be responsible for their kids' safety at all times.
PWDs, Seniors, Pregnant women, and Patrons with medical condition(s) are not allowed in the standing section for safety purposes.

Access to American Express Lounge for your chill out zone
Exclusive Restrooms
Access to the comfortable reserved seating area (may or may not be covered)
Seated sections are open to ALL AGES.
Children 12 years of age and under MUST be accompanied by a parent or guardian 18 years of age or older when attending all events. 
Children 24 months and younger are admitted free of charge as long as they are sitting on a lap unless otherwise stated.
Parents/guardians will be responsible for their kids' safety at all times.