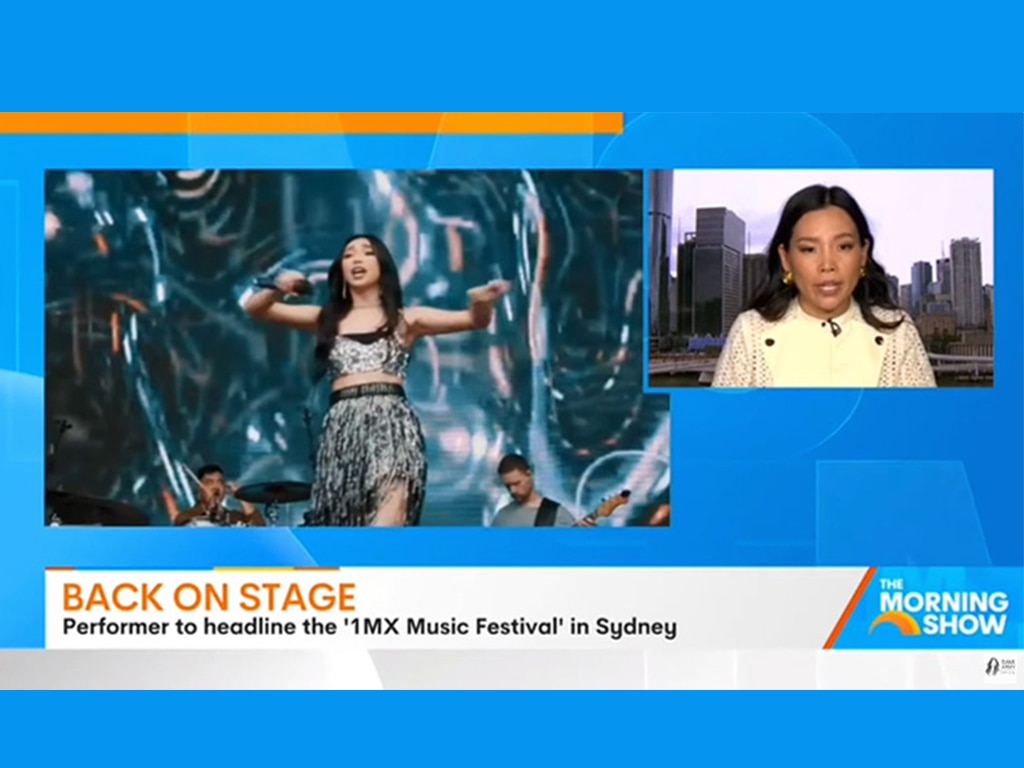 Image from 7NEWS' The Morning Show shows (LEFT) Filipina actress, singer, host, and model Maymay performing at 1MX in London, and (RIGHT) popular Korean-Australian music artist Dami Im who invited everyone to 1MX Sydney at The Hordern on October 8 where she is one of the headliners.
SYDNEY, September 30, 2023 – South Korean-born Australian singer-songwriter-recording artist, Eurovision royalty, The X Factor 2013 champion and classically trained multi-instrumentalist DAMI IM recently guested on "The Morning Show" of the Seven Network's 7NEWS, the highest rating broadcast news service in Australia as of 2022.  
Aside from promoting her new album, Live Sessions from Byron Bay Bluesfest, and announcing that she finished recording a Christmas album for release this year, Dami spoke about ABS-CBN Global's 1MX SYDNEY which is scheduled this October 8, Sunday, at The Hordern Pavilion in Moore Park, Sydney, New South Wales. 
"1MX is an international travelling music festival that just visited London and Toronto and is coming to Sydney at The Hordern on October 8," Dami said. "It's a festival where they bring together incredible artists from globally, especially Asian artists and Australian artists, and putting them all in one space. I get to be a part of it and play a set along with artists like Ben&Ben, and Maymay, with great food and atmosphere. It's really going to be a nice, fun day of music, food and all the good stuff." 
The Morning Show hosts Larry Emdur and Kylie Gillies commented that many of the artists are quite new to music fans in Sydney.  Dami said that is precisely why fans should grab this rare chance and opportunity to see these outstanding performers from Asia – superstars in their own countries – as they bring in new sounds, styles, looks
 and energy to the live stage.

1MX Sydney is an 8-in-1 concert festival that assembles the following artists: 

William Singe, 

Dami Im, 

KZ Tandingan, Ben&Ben, Keenan Te, Milky Day, Maymay, 

and P-Pop girl group Bini

 

who recently received a nomination from Brazil's BreakTudo Awards

 

in the category of

 

Music by New International Music Artist.
Fans can visit

 

www.1musicx.com

 

and 

look for

 

1MX

 

in

 

Sydney

, purchase their desired ticket tiers, and — to avail of 

the 

"Book Now, Pay Later" plan through Afterpay,

 the leader in "Buy Now, Pay Later" 

(BNPL)

 payments — just 

choose Afterpay at checkout. This allows the buyers the flexibility to purchase their tickets in four installments with zero interest.  The buyers can find their payment schedule on the Afterpay app and also get regular reminders. 
For more information on 1MX Sydney and to buy tickets now, visit www.1musicx.com