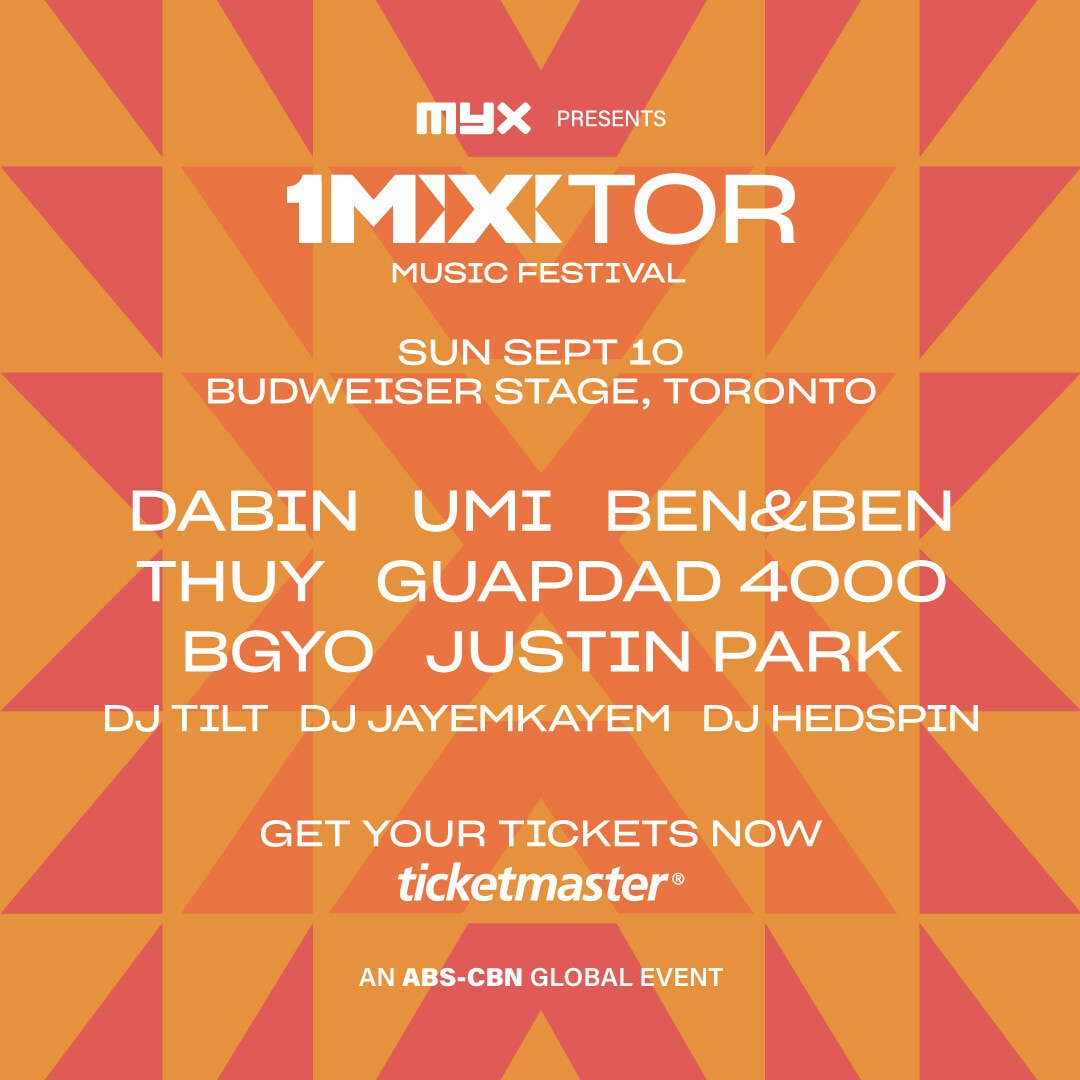 1MX will be the first Asian music festival to ever take place at Budweiser Stage, with performances from Dabin, UMI, Ben&Ben, thuy, Guapdad 4000, BGYO, Justin Park, DJ Tilt, DJ
Jayemkayem and DJ Hedspin
The festival shines a light on the music and food that defines Asian youth culture, bringing
together both local and international talent
Tickets start at $98.50 CA (including taxes and service fees) and are available now at
Ticketmaster.ca
TORONTO, July 13, 2023 /CNW/ – After successful runs in Abu Dhabi, Dubai, Manila and most recently London, renowned global Asian music celebration 1MX Music Festival will make its North American debut on Sunday, September 10, taking over the iconic Budweiser Stage in Toronto. The traveling showcase brings together the best in Asian food and music. International sensations UMI, Ben&Ben, thuy, Guapdad 4000, BGYO and Justin Park will all take the stage for the Toronto stop, along with JUNO-nominated headliner Dabin, and fellow Canadian DJs, DJ Jayemkayem, DJ Tilt and DJ Hedspin.
1MX Toronto Music Festival (CNW Group/1MX Music Festival)
"We are excited to bring the first ever 1MX Music Festival in North America to the city of Toronto on September 10 at Budweiser Stage," said Jun del Rosario, Managing Director, ABS-CBN International – North and Latin America. "We want to host this family-friendly event as a way of bringing the community together for a day filled with world-class entertainment from Asian music artists mixed with other international performers. We eagerly look forward to this special celebration of music and culture."
1MX features a tightly curated line-up of established and emerging Asian artists excelling in their genres and on track to becoming some of the next biggest acts in the world: 
A truly immersive experience for all the senses, 1MX Toronto will also spotlight authentic Asian eats in partnership with food vendors from the GTA. Stay tuned for lineup and menu details later on this summer.
The most recent edition of 1MX took place on Saturday, July 8, 2023 in London for the second consecutive year, attracting thousands of festival-goers from various parts of Europe and beyond. Audiences raved for the eclectic line-up of artists that blended must-know emerging and established Filipino talents with international acts, including Ben&Ben, Yuna, Moira, Johnny Orlando, Maymay, Tiny Umbrellas and DJ Clara Rosa. Images from the show can be found here. 
Connect with 1MX Music Festival on socials:
Website: 1musicx.com/Toronto
Instagram: @1mxmusicfest
YouTube: @1mxmusicfest
Tags: #1MXTOR #1MXToronto #1MXMusicFestival
About MYX Global
MYX Global is a premier media and entertainment company that celebrates the diverse voices and talents of the global Filipino and Asian community. With a mission to empower, inspire, and connect Filipinos and Asians worldwide, MYX Global delivers engaging content, showcases emerging artists, and provides a platform for authentic cultural representation. Through its music, lifestyle, and entertainment channels, MYX Global creates a dynamic and inclusive space for the new generation to express themselves and connect with their heritage.
About ABS-CBN Global
ABS-CBN Global is a leading media and entertainment company at the forefront of connecting and engaging with the global Filipino community. With a rich legacy spanning decades, ABS-CBN Global is committed to delivering innovative content and experiences that reflect the diverse Filipino culture and ignite a sense of belonging. Through its various platforms, including television networks, digital channels, and events, ABS-CBN Global reaches millions of Filipinos worldwide, providing a vital link to their homeland and fostering a strong sense of community. With a deep understanding of the Filipino diaspora, ABS-CBN Global continues to evolve and innovate, connecting Filipinos across borders and celebrating their unique stories and contributions on a global stage.
For more information and to buy tickets, visit https://www.1musicx.com/